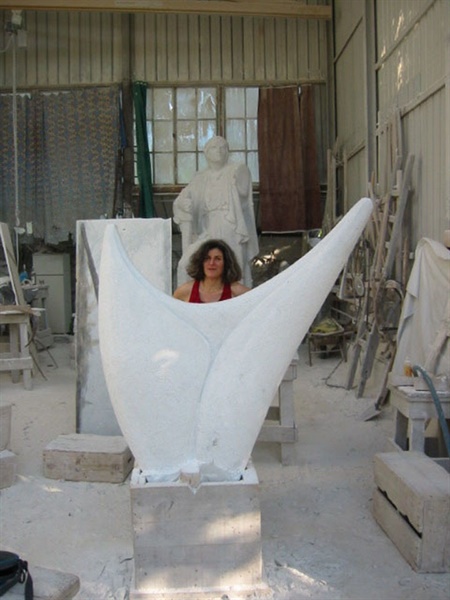 Artist's Statement
What is it like to create sculpture? It is akin to the process you go through when you write a thoughtful essay, when you cook a good meal for those you care about, or when you guide a child's understanding of nature on a walk through the woods. First a feeling comes from within about what to say or do. Then a sense of its purpose drives the plan and design. Then comes the doing and through the doing the spirit and beauty evolve. For me the act of creating sculpture is an act of love. It is a sharing of something deeply personal from one human being to another, sharing something deeply spiritual and beautiful.
Juxtaposed to today's fast paced life, the arts make us stop and reflect. In contrast to today's virtual spaces on the Internet, sculpture invites us to feel and touch. With today's focus on the present, marble and bronze sculpture stand as a timeless connection to our civilization's history and past.
----------
My career as a professional sculptor was launched when my college sculpture professor told me, "You must go to Italy if you are going to create sculpture." I graduated from Brandeis University, magna cum laude, with honors in sculpture and voted the most promising student in sculpture. Then I took myself to Carrara, Italy to learn to carve from the masters. I spent three months there and when I returned home, I managed to have my first one-person show that spring and was excited to sell my first piece. During my twenties I alternated between living in New York City to exhibit my work and living in rural Maine. Many times I have traveled to Italy to carve or cast in Pietrasanta (which means Holy Stone), the same town where Michelangelo carved during the Renaissance.
I studied with Peter Grippe at Brandeis and met renown artists such as Ipousteguy and Lipchitz in Italy. I have participated in workshops with B. Amore in Vermont and Philip Pavia at Brandeis. I am long time member of the New England Sculptors' Association.