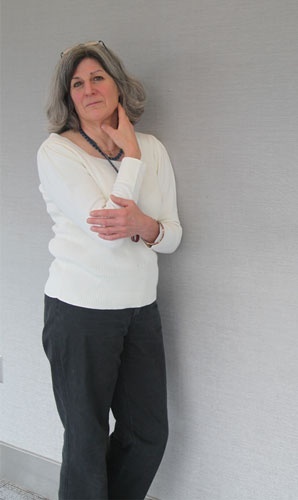 Article: Brigham and Women's Hospital
Clinical & Research News Profile
Movement in Stone
Whether it's the classic form of the human body or a garden-variety radish, the smooth, free-flowing curves of Melanie Zibit's sculptures trace seamlessly throughout her collection. Zibit, a clinical research coordinator in the BWH Sleep Medicine Division, has sculpted modern works of art from marble and bronze for more than 40 years. She is on the board of the New England Sculptors' Association; her award-winning pieces have been displayed at various museums, universities and art festivals throughout New England; and her work has been included in recent publications, such as 100 Artists of New England and Vermont's Carving Studio & Sculpture Center's Carving out a Dream.
Zibit has two upcoming summer exhibitions. In June, she will exhibit her work in Boston at the Transportation Building and in August, at Six Summit Gallery in Ivoryton, Conn.
How did you get into sculpting?
When I was a student at Brandeis University, I had an innate desire to express myself. I tried all mediums--clay, welding, print-making, painting. I found myself drawn to working in three dimensions, a natural extension of my artistic vision.
A short introduction to carving was all I needed to know that it was my medium! The carving process was meditative and challenging, the possibilities limitless, and the results took on a life of their own as they emerged from a solid block of stone.
After college, I traveled to the marble workshops of Carrara, Italy, where I learned from the masters. In my 20s, I lived in rural Eastport, Maine, among a community of New York City artists. At that time, it turned out I was the youngest artist and the only woman living on her own.
How would you describe your work?
In the 1970s, the painter Mitchell Siporin graciously captured the spirit of my work with the following words that he wrote for my first exhibition, "the liquid, flowing forms have been endowed with a dignified energy, dynamically serene, self-contained and communicative." I was humbled and touched by his words.
I am attracted to the challenge of working in stone and the beauty that results. My passion is to take stone, something so hard, and make it look soft. One time, just for the delight of it, I carved a marble pillow, enhancing the illusion of softness by puckering its marble corners.
What is the process that you go through when sculpting?
I start my sculptures by doing a drawing to make sense of the feeling I want to express. Next I construct a small model, what the Italians call a 'maquette.' The maquette too is a sketch, but this time in three dimensions. As I do this small model, I struggle to articulate my vision through forms, lines, light and movement. Once that is created, I translate my sculpture into a larger piece either in clay or marble.
As I create, I move around the sculpture to understand how it changes from every vantage point. This is the fascinating thing about sculpture. The viewer is an active participant because they have to walk around to see the whole thing, to follow its movement and engage with the forms.
You work with marble and bronze. What are the advantages and disadvantages of sculpting with these materials?
I wouldn't say there are advantages or disadvantages, but these mediums inspire a different form vocabulary and require two very different processes. Carving is a subtractive process. The sculptor begins with a mass of material larger than the finished work and removes material, or subtracts from that mass until the work achieves its finished form. If you chip off more than you had wanted or a form breaks, the stone challenges you to modify your initial vision to accommodate the change. Sometimes this leads to a totally unexpected innovation that makes the whole piece come alive.
Modeling in clay or wax as the basis of a bronze sculpture is an additive process. The sculptor builds the work, adding material as the work proceeds. With modeling in clay or wax, the artist can create a form, remove it and try again or modify it until it is just the way the artist envisioned.
How do you find time to sculpt?
These days it is hard to find time. In the past, I had to put away my sculpture to raise my two sons, work in educational research, and now in healthcare research to cover expenses. If I sculpt, I do it on weekends in the evening and work into the wee hours of the morning. During the summer I go to the Carving Studio & Sculpture Center in West Rutland, Vt. where I work from early morning to the evening every day for a week.